Tommy Rebel and the Righteous
Soaring into the vibrant live music scene in Austin, Texas, Tommy Rebel and the Righteous are a power rock trio creating guitar-driven sounds with smoky vocals, stinging riffs and an electric live performance. Sonically, the band's influences emanate from the 1960s where they believe it all began … from hard rock, heavy metal and country rock to alternative rock, punk, new wave and modern country. To get an inkling of their vibe imagine a mash-up of Grand Funk Railroad, Deep Purple, ZZ Top, Bob Seger and John Mellencamp. All that being said, their music stands on its own two feet ... somehow familiar and brand new and fresh at the same time.   
At the core of the trio is Tommy Rebel - a visionary and chronicler of our times that brings an authentic rock spirit to his writing, singing and playing. He is equal parts singer, songwriter, guitarist, lead vocalist, poet, philosopher and much more. He describes his musical contribution as sending an "open letter to the universe," with the recipient being anyone who can appreciate the energy and soul behind it. For Tommy, music is a way to pass along understanding between individuals and to connect humanity. So a cosmic union, or communion of sorts, was truly expected when the trio released their debut album, "Renaissance Dude," on March 6, 2020.    
Born in North Carolina and raised in Southern California, Tommy has been defying the odds since he was young. At age seven, he contracted a severe ear infection that left him totally deaf in his left ear and only about 40 percent hearing in his right ear. Yet, Tommy has been creating music all of his life and as a frontman and solo artist, his accolades are many. Throughout his career, Tommy has opened for world-renowned artists such as Molly Hatchet, Lynyrd Skynyrd, The Outlaws, and Joan Jett & The Blackhearts to name a few. He had a hit single with his early band, Tommy Rebel and the Rockerfellas, called "Come On," that was in heavy rotation on college station WUSC FM and charted to #3 in the southeast region. That hit single was then reviewed by Billboard magazine and led to discussions with record labels including Atlantic Records and Scavenger Records. His resume includes touring and recording for many years as a professional musician with various iterations of his band, hitchhiking across the U.S. (at least four times), earning a degree with honors in Material Engineering, and more. To say that Tommy has lived many lives would be an understatement and the "Tommy Rebel" stage persona that he adopted back in his avant garde musical youth continues to inspire and entertain audiences today. How about THAT for a renaissance man? 
After taking some time away from recording music, Tommy re-emerged in the Texas music scene in 2015 with The Tommy Rebel Band. Three drummers later, Rollie White joined in August 2017 and four bass players later, Naer Lin joined in March 2018. It was then they changed their name from The Tommy Rebel Band to Tommy Rebel and the Righteous.   
"We felt that almost everyone had a group name with the word 'band' in it and we wanted something different and inclusive," said Tommy Rebel. "The Righteous appealed to us on several levels and we like the fact that it sets the bar high. You better bring it if you call yourself The Righteous."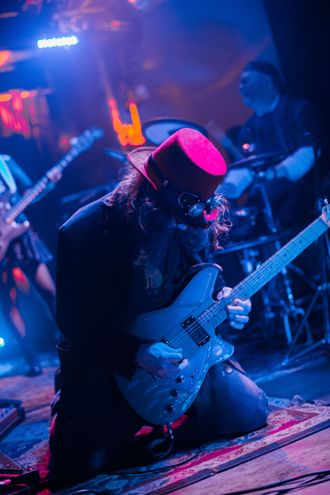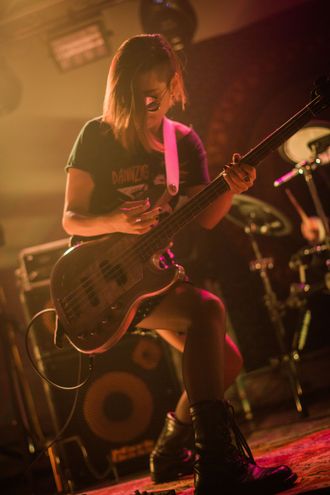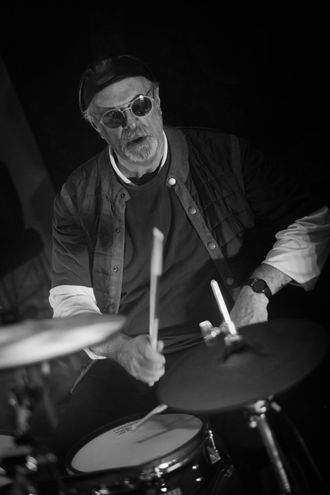 Up until the Coronavirus Pandemic shut down all live performances in March 2020, the trio had been playing around central Texas on a frequent basis. In fact, each member has been creating and playing music for the majority of their lives. Naer comes to the Righteous with significant bass playing experience, primarily in the Beijing rock scene. She has toured all over Asia and the Chinese festival circuit with different music groups, and spent 12 years with famous Chinese singer songwriter Zang Tianshuo and the popular Chinese folk-rock band, Buyi. Rollie has been playing music since he was a teenager and has drummed in various rock bands throughout college and beyond. He describes his playing style as smooth and powerful and in total sync with the Naer's driving rhythmic bass. Together, the three members have melded into a rock power trio built on passion, musicianship and a desire to connect with their audience through music.  
 Their debut album "Renaissance Dude," takes the listener through a sonic journey filled with electrifying guitar hooks, throbbing rhythms, great melodies and thought-provoking lyrics that touch on feelings of freedom, truth, love and acceptance.  
The band recorded the album under the guidance and expertise of the legendary Chris "Frenchie" Smith (best known for working with The Toadies, Jet and Santana) at Bubble Studio in Austin, Texas. With Frenchie mixing and producing the record and Alex Lyons mastering it, "Renaissance Dude" ebbs and flows from rock heavy anthems with intense guitar riffs to smooth ballads that showcase a softer side of the trio.  
"From the pinnacles of success to the depths of despair, Tommy has weathered all storms in climbing back to relevance with his band the Righteous and the wonderfully diverse songs that comprise this incredible album," said the album's producer, Chris "Frenchie" Smith. "Arguably ... Tommy Rebel and the Righteous is "your favorite rock band that you never heard of.
But not for long. The record kicks off with "MajicSity" featuring intricate guitar picking,  powerful vocals and a swampy rhythmic beat. The following track, "Little Bit," carries a strong chord progression and its lyrics highlight the importance of giving more than you're expected to receive. As the album continues, Tommy Rebel and the Righteous flow from fast-paced songs like "Moving On" that speaks to the essence of tasting freedom for the first time, to down-tempo tracks like "Night Train," a song about owning one's mistakes, "Over and Under," about loving and letting go and "Back Roads," a track about remembering what really matters most. Other highlights from the record include Tommy's soaring vocals and crescendo of guitar on "No School Today" and "Time is Mine," a manifesto about enjoying the short moments one has to oneself because time is never really your own.   
"It is an album about knowing what things are important to you and appreciating the small things that matter," said Tommy Rebel.  "With Naer, Rollie, and Frenchie, I simply asked that we make a special effort. I let everyone think and do as they pleased with my music, because they all care and know I love what they bring to the effort. It's a free-for-all, organized chaos and topped off with the deepest love for music from us all. In this regard, Frenchie became the 'Fifth Beatle' and we trusted in his considerable producing skills and experience in the mixing of our songs. We are both "all in" on these songs and heavily invested in one another!" 
"In a word, Tommy is rock 'n' roll … his life story and experiences are the stuff that great novels and movies are made of," said Rollie White. "To try and compare him to anyone else is a disservice. He is one of a kind … a true Renaissance Dude." 
Due to COVID, Tommy Rebel and the Righteous have not been gigging live since March 2020, and look forward to taking the stage with a fresh new set and killer live show in the Fall of 2022.